Services are Sundays at 9 and 11 AM, we hope to see you there!
Watch our 11 AM service, archives of recent services, or other live events online.

Gospel Liturgy (Order of worship): Each service begins with God initiating through the call to worship.
Then we Remember Him, we respond with songs, prayers, and readings that help us focus on and remember His character.
Having encountered Him, we are then drawn into confession, where we are Honest with ourselves about the gap that exists between His holiness and our fallen, sinful condition.
This is followed by resting in His grace and assurance of God's forgiveness through Christ.
Then, we respond with our offerings to God, from gratitude.
Then, a Scripture and sermon.
Finally, the service concludes with the Benediction to send us out.
Christ-Centered Preaching: Because all Scripture is about Jesus, every sermon should be as well. 
Hospitable worship: According to the Bible, the first and greatest commandment is to love God with our whole selves—heart, soul, strength, and mind. The second, Jesus said, is like it: To love our neighbor as ourselves (Matthew 22:37-39).
Scripture also emphasizes the importance of practicing hospitality in our homes and in our churches (Romans 12:13). Therefore, at Rio we believe it is important that our services are both worshipful (first and foremost centered on God), and hospitable (showing respect for and understanding of our South Florida neighbors who visit).
The Bible teaches that worship should not only be God-centered and enriching to Christian believers, but also intelligible, winsome (attractive), loving, and challenging to our non-Christian friends (1 Corinthians 14:20-25).
Dress in whatever is most comfortable to you. Most of the people you see on a Sunday will be dressed casual. It is what's in the heart, not the outward appearance that matters most!
At every service we have a greeter stationed at the entrances to hand you a worship journal as well as point you toward the Welcome Desk.
The Welcome Desk located in the Fellowship Hall towards the back of the sanctuary. (Hint: this is also where the bathrooms are located.)
Our First Impressions Team will answer all your questions. While there, don't forget to pick up your Visitor's Gift!
Here's a map of the worship center...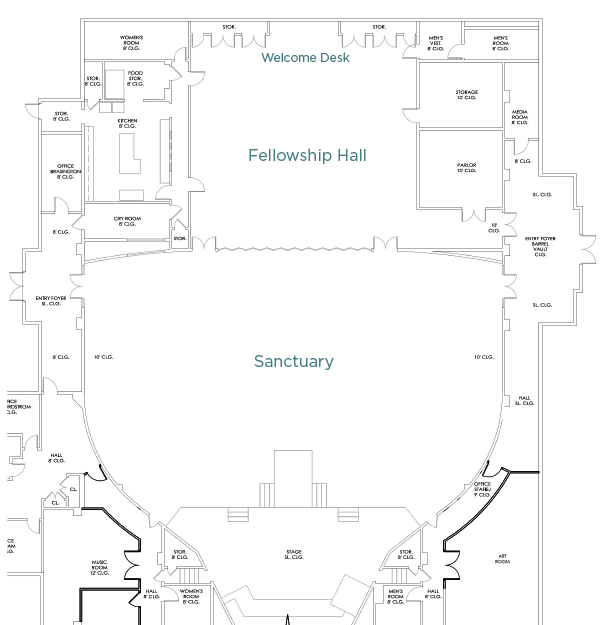 We are a multi-generational church desiring to create a hospitable place of belonging for every type of person. Whatever your religious beliefs, political leanings, preferred attire, social position, profession, ethnicity, culture, marital status, or music taste, we want our church to be a place where you can process and grow in your thoughts about God and the role he has for you in his world, and where you can be in life together with other people.
We do have ongoing small groups, at Rio we call them community groups as we want to emphasize fellowship & proximity. We believe proximity allows you to "do life" together, have unintentional run-ins outside the walls of the church. 
To learn more about joining or leading a community group, head over to our community group page.
Glad you asked! We have a community engagement coordinator.
Feel free to send her an email.